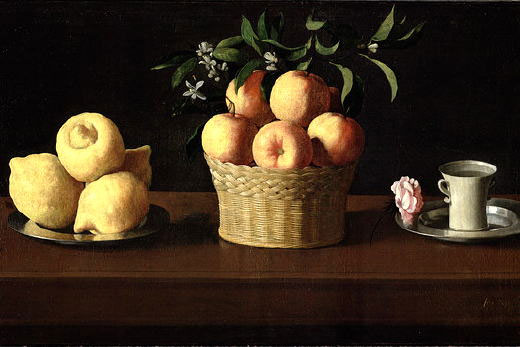 Francisco de Zurbarán's "Still-life with Lemons, Oranges, and Rose"
It is a commonplace that the overwhelming mass of our contemporary art that is "exhibited" has devolved into mere "exhibitionism." Vapid, disposable and preening the works are doomed to be buried in the gaping garbage pits of marketing-driven museums, and crapulous galleries that hold most contemporary American and European art. Still, great souls persist among us and great art, though it is often obscured by poseurs and perverts and pallid imitators of all stripes, can still emerge when talent and skill are wedded to inspiration and belief.
In an arresting and rare explication and meditation on the origins of great art in our time, composer Morten Lauridsen writes of his own work and the work of a long dead master in "It's a Still Life That Runs Deep." The essay reveals a bit, but just a bit, about how inspiration can leap from one medium to another in art and, by such a leap, gain even more power.
Lauridsen's exegesis also reveals how all great art tends to exist outside of time and to defy the "moral, spiritual and aesthetic relativism" that reduces most of our "attempts" at art to rubble. He does so by reminding us that great art, like God, exists outside of time.
In E. M. Forster's Aspects of the Novel (Surely the only book it is necessary to read to understand the novel.) he presents an image that is as pertinent to all true artists as it is to novelists alone:
"We are to visualize the English novelists not as floating down that stream which bears all its sons away unless they are careful, but as seated together in a room, a circular room, a sort of British museum reading room, all writing their novels simultaneously,"
Lauridsen underscores this notion and expands it to painting and music.
In discussing the origin of his chorale composition, "O Magnum Mysterium," in the early 1990s, Lauridsen cites as his primary inspiration a painting done in 1633, more than three and a half centuries before The painting is Francisco de Zurbarán's "Still Life With Lemons, Oranges and a Rose."

How, we might ask, can a mute still-life from more than three and a half centuries ago spark a contemporary chorale that has been performed and recorded over and over since it's creation? Unlike today when most paintings contain only a sop of skill and a slapdash chunk of execution, paintings once spoke more clearly. And those today who still know the ancient language of painting and the old belief can still hear the music in the pigment. Lauridsen describes, or rather interprets, the painting thus:
Francisco de Zurbarán's "Still Life With Lemons, Oranges and a Rose" normally hangs on a back wall of one of the smaller rooms in the Norton Simon Museum of Art in Pasadena. Like a large black magnet, it draws its viewers from the entry into its space and deep into its mystical world. Completed in 1633, it is the only canvas the early Baroque Spanish master ever signed and dated.

We are shown a table set against a dark background on which are set three collections of objects: in the center, a basket containing oranges and orange blossoms; to the left, a silver saucer with four lemons; and, to the right, another silver saucer holding both a single rose in bloom and a fine china cup filled with water. Each collection is illuminated and placed with great care on the polished surface of the table.

But it is much more than a still life. For Zurbarán (1598-1664) -- known primarily for his crisply executed and sharply, even starkly lit paintings of ascetics, angels, saints and the life of Christ -- the objects in this work are symbolic offerings to the Virgin Mary. Her love, purity and chastity are signified by the rose and the cup of water. The lemons are an Easter fruit that, along with the oranges with blossoms, indicate renewed life. The table is a symbolic altar. The objects on it are set off in sharp contrast to the dark, blurred backdrop and radiate with clarity and luminosity against the shadows.

The painting projects an aura of mystery, powerful in its unadorned simplicity, its mystical quality creating an atmosphere of deep contemplation. Its effect is immediate, transcendent and overpowering. Before it one tends to speak in hushed tones, if at all.
I've seen the painting by Zurbarán and I can attest to the fact of its strange power to arrest the pace and still the attention into contemplation. The underlying symbolism of the work was unknown to me until Lauridsen made it explicit, but I don't find it surprising. After many years of ignorant acceptance of one gruesome and ugly step downward in art after another that I witnessed when I wandered around in New York's overheated and overhyped art scene, I came to the reluctant conclusion that most contemporary art was garbage, that it had no soul, and that deep down... it was shallow.
When I thought about why that was a host of reasons presented themselves to me. Perhaps it was that the ability to draw was no longer taught and expected to be a basic skill of those who would call themselves our "artists." Perhaps it was that the proliferation of art schools and "art majors" gave the baby boomers and their offspring a way through college that required as much intellect as a point guard, but not nearly as much talent and dedication. Perhaps it was that the rise of the ridiculous rich with their 15,000 foot McMansions meant a lot of wall space that had to be covered with something fashionable but not demanding. This just at the time Warhol and Mapplethorpe popped off and could no longer supply those whose bad taste was in their mouth and down their throat. Hence a legion of pretenders and jackanapes arose to fill the arrivistes' demand for garbage to decorate their squalid lives. This is not a hunger that should be fed for, as all Park Rangers know, "Once a bear is hooked on garbage, there's no cure."
In the end, it was, of course all of these and none. It was as simple as Gertrude Stein's "There's no there there." For at the core of all the objects that form the mountain of crap that is palmed off as "art," there is simply and plainly, nothing at all. Nothing felt, nothing sensed, nothing learned, and nothing believed in. As such it is without soul. And nothing that lacks soul can survive death, especially the death of a culture and our present state which is best described, a la D. H. Lawrence, as "post mortum effects."
Which is why it is so reviving to come across Lauridsen's citing of the magic and mystery of a painting that inspires music from his soul across more than three and a half centuries. It reminds us that art that is true, that art that comes from belief and the soul, will survive and will continue to expand the soul of man despite all the forces that may array themselves against "the good, the beautiful and whether or not something is true."
Does Lauridsen's "O Magnum Mysterium" fulfill this promise? Does it demonstrate that, in the midst of the ruins, great art can still arise in our time; that all it takes is belief? I believe that it does and that belief nourishes my soul. You decide for yourself.
I believe that man will not merely endure: he will prevail. He is immortal, not because he alone among creatures has an inexhaustible voice, but because he has a soul, a spirit capable of compassion and sacrifice and endurance. The poet's, the writer's, duty is to write about these things. -- William Faulkner - The Nobel Prize Banquet Speech, December 10, 1950
http://www.wsj.com/articles/SB123516723329736303
It's a Still Life That Runs Deep
By Morten Lauridsen
Feb. 21, 2009
... In 1993 Marshall Rutter, then president of the Los Angeles Master Chorale, commissioned me to write a piece, in honor of his wife and their second anniversary, that would have its premiere at the Master Chorale's Christmas concert in 1994.
The Latin text for the Christmas Day matins responsory, "O Magnum Mysterium," also celebrates the Virgin Mary as well as God's grace to the meek:
O great mystery and wondrous sacrament, that animals should see the new-born Lord lying in their Manger!

Blessed is the Virgin whose womb was worthy to bear the Lord Jesus Christ. Alleluia!

(O magnum mysterium, et admirabile sacramentum, ut animalia viderent Dominum natum, jacentem in praesepio!

Beata Virgo, cujus viscera meruerunt portare Dominum Christum. Alleluia!)
This brief text about the birth of Christ in the manger and the veneration of the Virgin Mary has inspired countless composers over the centuries, most notably Tomás Luis de Victoria (1548-1611), whose timeless Renaissance-era setting remains a beloved staple in the choral repertoire. I knew at once that it should be my text as well.
At the core of my work as a composer over the past 45 years are seven multimovement vocal cycles, each centered on a single poetic theme, most often by one author -- for example, "Les Chansons des Roses" on Rainer Maria Rilke's delightful poems penned in 1924; the "Madrigali 'Fire-Songs'" on Renaissance Italian poems; "Cuatro Canciones," my chamber settings of Federico Garcia Lorca's poems about time and night; and the "Lux Aeterna" on sacred texts about "light." And for each cycle I've selected my musical materials -- harmonies, melodies, rhythm, formal construction, orchestration, etc. -- to complement aspects of the texts I've chosen, including their style, content, language and historical context. The musical settings range from accessible and direct to atonal, abstract and highly coloristic.
For "O Magnum Mysterium," I wanted to create, as Zurbarán had in paint, a deeply felt religious statement, at once uncomplicated and unadorned yet powerful and transformative in its effect upon the listener.
I also wanted to convey a sense of the text's long history and theological importance by referencing the constant purity of sacred music found in High Renaissance polyphony, especially in works by Josquin des Prez and Palestrina. The harmonic palette I chose, therefore, is simpler and direct; the complex chords abounding in my "Madrigali" and "Canciones" are nowhere to be found here. Further, both the musical themes and phrase shapes in "O Magnum Mysterium" have their roots in Gregorian chant, with a constant metric flow and ebb.
The piece seems to float, to hover in the air, due to a predominant use of inverted chords, recalling the Renaissance practice of fauxbourdon. Inclusion of the "Alleluia" descant over sustained pedal tones references yet another characteristic of the era, and dynamics throughout are subdued, contributing to the aura of meditation and prayer.
The most challenging part of this piece for me was the second line of text having to do with the Virgin Mary. She above all was chosen to bear the Christ child and then she endured the horror and sorrow of his death on the cross. How can her significance and suffering be portrayed musically?
After exploring several paths, I decided to depict this by a single note. On the word "Virgo," the altos sing a dissonant appoggiatura G-sharp. It's the only tone in the entire work that is foreign to the main key of D. That note stands out against a consonant backdrop as if a sonic light has suddenly been focused upon it, edifying its meaning. It is the most important note in the piece.
In composing music to these inspirational words about Christ's birth and the veneration of the Virgin Mary, I sought to impart, as Zurbarán did before me, a transforming spiritual experience within what I call "a quiet song of profound inner joy." I wanted this piece to resonate immediately and deeply into the core of the listener, to illumine through sound.
"O Magnum Mysterium" had its 1994 premiere by the Los Angeles Master Chorale under the baton of Paul Salamunovich. Widely recorded with thousands of performances throughout the world since then, it owes much to its visual model, Zurbarán's magnificent "Still Life With Lemons, Oranges and a Rose."
This American composer, from across time and space, quietly tips his hat in gratitude.
Mr. Lauridsen is Distinguished Professor of Composition at the University of Southern California Thornton School of Music. He received the 2007 National Medal of Arts "for his composition of radiant choral works combining musical beauty, power, and spiritual depth that have thrilled audiences worldwide." This painting is included in "Masterpieces of European Painting From the Norton Simon Museum" at the Frick Collection in New York through May 10.
http://www.americandigest.org/mt-archives/ grace_notes/beauty_out_of_b.php